Portable aluminum performance simple stage with stair stage deck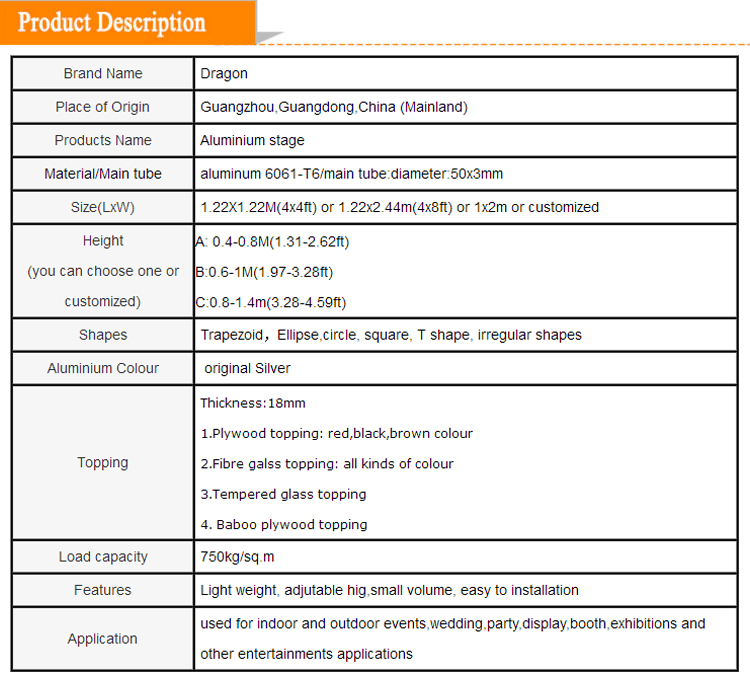 1. Parts is so Simple: made of 1 platform, 4legs and leg connector.

Stage topping Size :
T-1:1.22*1.22M
T-2:1*2M
T-3:1.22*2.44M
Stage leg high:
L-1:0.2-0.3M
L-2:0.4-0.6M
L-3:0.6-1M
Stage topping material is optional:Antislip plywood/Carpted plywood/Firbe glass/Tempered glass/Bamboo plywood.
Stage topping thickness is 18mm.
Stage Frame Material is Aluminium.
All SPECIAL size and shapes(Arch shape) is available, please contact with our professional sales staff.
2. Small spaces for storing: Have a look the above MS2 parts photos, "1platfrom+4legs"- so simple Parts, so that it save much cost on shipping and Storing, epecailly for rental company pay attention to this.
3. Easy to Assemble: Insert stage legs into 4 corner of platform, and lock by small spanner, finish ! Only 2 women can do it~!
Stage leg connector don't use it when MS2 stage high is below 0.6m(2ft).
How to Lock stage?(Photo)
Let us talk its best advantage~! MS2 stage can be adjusted to any high and angle.
The foot cup can also be fine-tuned 5~8cm(2~3in).
This advantage perfectly overcomes all kinds of uneven special grounds, such as: building above the stairs, small slopes, small uneven ground.
There are two choices for the disc: iron disc and plastic disc.
The stage is difficult to build, mainly because the ground is not flat, the various components are not well connected, and even the gap between the stages is very large. Building is also a technology. This gap has always been a problem for the production stage and construction people thinking, ±1MM OK no problem , 2-3MM, how to do high-heeled shoes?
This stage simplifies some minor problems in many builds.
4. Good load capacity:
MS2 stage size 1.22*1.22m 500kg/sq.m;
MS2 stage size 1*2m 500kg/sq.m;
MS2 stage size 1.22*2.44m 400kg/sq.m;
Please watch the simple stage installation video (pls WIFI: 79M)